Call me a little crazy, but I take planning my hairstyles just as seriously as I plan my outfits. I like to have a game plan headed into the work week, so that I don't have to scramble in the morning trying to figure out what to wear and how to do my hair.
Planning out ahead of time also helps me cycle through my wardrobe and style my hair appropriately... for not only my workday, but the weather too.  Here is a typical five-day plan I follow when mapping out my week.
Monday: Freshly Washed and Flowing
Sunday night is a great time to get ready for the busy work week, which includes a thorough hair washing and blow out.  Here's a chance to try a center part, which were all over the New York Fashion Week runways! Isla Fischer rocks a sleek, fresh center part blow out.
Tuesday: Second-Day 'Do: 
Wednesday: Braided or Bunned
If you have hair that is prone to getting oily, you may have to wash by Wednesday, but since my hair tends to be on the dry side, I try to push my locks one more day before washing.  Plus, I find that the natural oils and product already in my hair holds an up do incredibly well.  My boss tends to call me the sock bun queen, as that is how I survived a very hot- and busy- summer.  Don't know how to execute a sock bun?  Check out our How To Updo: Sock Bun post.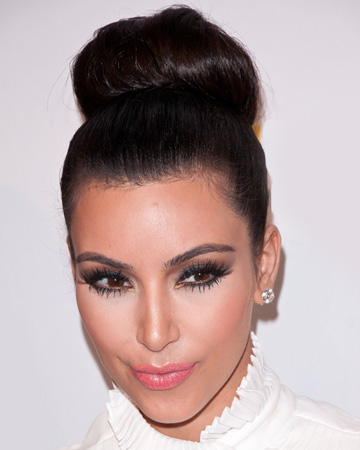 Or, a braid is always a classic and sophisticated style that keeps the hair off your neck and face as well.  Check out our Best Braids of 2012 post for inspiration.
If you do end up washing your hair for your Wednesday, simply rock a braid or bun on Thursday or Friday.
Thursday: Washed 2.0
Give your locks another wash, but try a different blown out style.  Sometimes doing something a little extra with my hair, like curling it with a tool such as the bubble wand, for sexy, modern waves, is the perfect mid-week pick-me-up.  I find that trying a different style is the extra push of motivation I need to tackle a Thursday, when I'm typically starting to get tired and yearn for the weekend.  Blake Lively has effortless, imperfect curls on the set of Gossip Girl, which can be made with a bubble wand.
Friday: Casual and Fun
Accessorize!  Fridays tend to be a day where you can have a little more fun with your attire, so why not take advantage of the opportunity to try out a cute accessory, such as a fun headband?  Feather headbands pick up the colors of fall, and are a great way to hide some less than clean or perfect strands on the last day of your workweek.  Check out other great headband styles from our blog.
And before you know it, the weekend is here!  Of course, this is the plan that tends to work for me, so feel free to tailor accordingly to different hair types and lifestyles.
Whatever your week demands, having a plan for your weekday hair is an effective way to cut down on time and thinking when you don't have either to spare, so it's totally worth it to devote a little extra time on Sundays to prep your weekly hair style guide.  Plus, it's also the perfect time to try out those new styles or accessories you read about while getting a pedicure on Saturday, or from catching up on the Loxa Beauty blog!
For the love of hair,
Kati